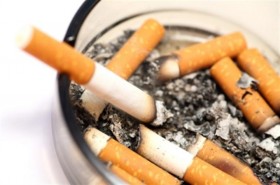 I do weight lifting and cardio workout three to five times a week. Two days a week I do my training during office hours. Theese occations I've been going to lunch 45 minutes earlier then normal to do my workout right before my regular one hour lunch break. This means I'm away for a total of about 1 hour and 45 minutes for lunch and workout. Doing this twice a week basicaly means that I steal one and a half hour of office time. I have a cool and understanding boss, so we have an agreement about this routine, because he understands the value invested in this time and how it returns in health and wellness. Besides, I usually compensate this weekly one and a half hour of borrowed time by doing some work in the evening or an hour at the weekend.
Recently someone was questioning this privilege and how it's motivated that I should be allowed to steal (borrow) one and a half hour of work time every week to go to the gym. And here comes the comedy. The person questioning this routine is a smoker…
Ever since then I have been observing smokers in general and their routines and come up with some conclusions. I have been counting a very low average, feel free to comment below if you think I am off by my numbers, but here we go. I calculated that the average smoker smokes 12 cigarettes a day, and I am pretty sure this is an low estimate. Dividing the 12 cigarettes evenly across the persons awake time would place about 6 of those cigarettes during office hours. I'm gonna remove another 2 cigarettes from the work hours because I assume that one or two will be smoked during a lunch break or so. Leaving us with 4 cigarettes that will be smoked each day during work hours. I estimated each cigarette to take about 5 minutes to smoke and added another 2,5 minutes for going outside to smoke and then going back inside again. A total of 10 minutes per cigarette. A pretty fair estimate I'd guess? Four times a day this is 40 minutes in total daily, 3 hours and 33 minutes weekly.
So what do you say guys, is it fair that the "three and a half hours of poisoning himself" guy complain about me taking one and a half hour to workout?