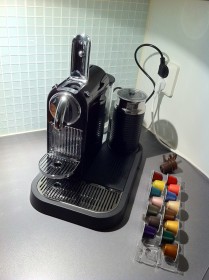 My awesome girlfriend brought me this Nespresso Citiz&Milk D120 which is an awesome machine. It comes with a tray containing one sample pod of each taste and kind of the Nespresso coffee. The "Decaffeinatos" which you understand from the name are without caffeine. I didn't care much for them, they taste very artificial and flat. My absolute favorites are Ristretto (The black capsule) and the Arpeggio (The purple capsule) which are the two strongest ones. They are perfect for strong latte or espresso. Among the "Lungos" (which basically is a cup of black coffee) I like Fortissio Lungo most.
The milk foamer comes with two different whisks which are easily changed for making either light foam or very nice micro foam. It works well with Standard-Milk or Light-Milk but for some reason the Medium-Milk does not give any good foam.
All in all I am very satisfied with this machine. It's well built and has a nice design but most important it makes perfect espresso.