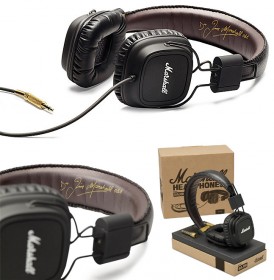 Marshall, known since the 5o's for their massive and effective guitar amplifiers and speakers used by rock n' roll bands all over the world. I am very much into rock n' roll and heavy metal myself, so when Marshall released these headphones it caught my interest right away. Marshall Major, just the name itself made me excited to listen to them!
Marshall Major Headphones are manufactured by the Swedish company Zound Industries. They are currently retailing for around €95 in stores and about €80 plus shipping online. I went to my local hi-fi dealer to check them out and to give them a listening session.  The first visual impression is very pleasing with its matt black finish, soft vinyl cushions, the white Marshall logo and the very handy spiral cable. Very cool looking actually! The build quality is nice, they are somewhat foldable for easy transport and they feel durable. The Marshall Major is a closed on-ear construction and they sit fairly comfortable onto your head and ears.
When I go and listen to headphones I always bring with me the same music source which is my iPod and my iPhone, because this is the way I use headphones. My listening experience with the Marshall Major was not what I had hoped for and I am not impressed with the sound quality. The sound stage is messy and straggly without much of feeling for room and space. They do have a punchy and powerful mid-bass but lack almost everything in the lower bass. They sound very rough and have a huge and noisy midrange while they roll off very quickly in the treble. I skip through song after song but listening to my favorite rock and metal with Marshall Major was partly boring but mostly painful. I said to myself, "What is major about them?"
If Marshall Major Headphones retailed for €12 I might have bought a pair just for their awesome looks as street wear headphones, but at €95 I would really not recommend them! Sure, go and have a listen at them, but if you are willing to spend €80-100 on headphones in the street wear category I strongly recommend you to go look for something else. Even at modestly €45 the AKG-518 DJ headphones outperform the Marshall Major easily. Too bad Marshall, I was expecting much more.
AKG K 518 DJ: http://www.prisjakt.nu/produkt.php?p=156013
Marshall Major: http://www.prisjakt.nu/produkt.php?p=800452