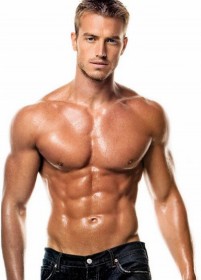 The past few years a new popularity boom of VLCD -Very Low Calorie Diet- products has flooded the market. The trend is obvious: people are overweight and they want a quick fix! For those of you who are not familiar with VLCD some examples of products are soups, smoothies and bars from such as Nutrilett, Alevo, OptiFast, Modifast and many others. The whole concept is to cut back on calorie intake so hard that you basically starve your body and thereby use stored body fat as energy source. With most of the VLCD products this is done by replacing your food with a smoothie, a soup, a powder shake or whatever product, 3-5 times a day every day until you're slim.
Sounds easy enough! The problem is that there is no such thing as a quick fix or an easy way out! If there were then everyone would do it and everyone would look as Nick Auger in the picture above. I'm going to talk a bit about why VLCD diets never work in the long run and why I do not recommend it.
First of all, regardless of anything else, Very Low Calorie Diets are a torture and will be very mentally stressful. Some days you will be sitting on the edge of sanity and dangling your legs. Even if you pass that, you will be physically exhausted most of the time. Different VLCD products and programs will be differently aggressive. I have seen extreme examples where you drink a 100KCAL shake 5 times a day. That's 500 KCAL a day! Compared that to about 2600KCAL for a normal weight man, or 3500KCAL for what a male athlete would eat in a day.
VLCD will work surprisingly well a short period of time for a person that is very overweight but will not show much result on someone that is almost normal weight and only has a few extra pounds. What happens the first period of time, may this be 2 weeks or 2 months depending on your weight, is that your body will slowly start to use and spend the body fat as an energy reserve, because you are technically starving now. Your body will reduce in body fat to dig up the energy that is needed for you to keep going and to survive. During this period the weight loss for a very overweight person may be somewhere between 1-5 kg (2-10 pounds) per week depending on the aggressiveness of the VLCD program.
Now, this is what they don't tell you, the catch of VLCD and why it doesn't work in the long run. Eventually your body is going to realize that it is starving and that there is not going to be more food anytime soon. Your body will go into a survival state and may drastically slow down your metabolism. Now instead of using body fat as energy reserve to keep you going, your body will instead try to spend as little energy as possible to "save you" from starving. It will slow down on using body fat as energy and may even start to break down some muscle mass. Muscles also provide a good energy reserve, but they are also spending valuable energy. Now the metabolism is at its slowest and instead of spending body fat your body will try to store new fat and break down muscles in order to survive. That means that some of the weight you lose now is actually muscle mass.
In addition to this, very long periods of VLCD may cause permanent and unrecoverable damage to your kidneys and liver. Once you try to start eating normal food again your body will still be in survival state for a period of time, maybe even for as long as it took to get into survival state. Because your body still being in the survival mode it will start storing fat right away and try to keep an energy reserve to save you from starving next time. This phenomenon has for ages been called yo-yo dieting. Once the yo-yo gets going, well…
To finish this up, if you plan to lose some weight there are much more fun and effective ways to do that. You don't have to starve if you eat the right food and if you find an exercise form that fits your lifestyle.